Internet Marketing with Ivolution Consulting
Ivolution Consulting provides a comprehensive suite of Internet Marketing services, from Digital Strategy development and implementation to Website Design and Search Engine Optimisation.
Based in Adelaide, South Australia, Ivolution Consulting works with clients  throughout Australia, US, Canada, New Zealand, Brazil, Philippines & South Africa.
Clients want results. Enquiries and sales are much more frequent if people can find your business easily when they search. If a website is not easy to do business with, spending money on a campaign to drive people to it is likely to be ineffective.
Every project begins with research and an audit to discover what is working well and where changes are required.
About Ivolution Consulting
Ivolution Consulting's Managing Director Alan Timms founded web / software company Interactive Web Services in 1996, renamed Groundhog Software (on Groundhog Day) 2nd February 2000. He also ran a digital media venture for KWP Advertising and DMG Radio.
Alan's been responsible for delivering thousands of projects over the past 25 years with his talented team. For enquires, please call 0417 881 326.
Internet Marketing Services
Internet Marketing is a broad term that covers an extensive range of services. The requirements for each client will vary based on the outcomes they are seeking, the competitiveness of their market and location.
The Internet Marketing services offered by Ivolution Consulting include:
Digital Strategy Development & Implementation
Website Development (Mobile-first approach)
Local Search (SEO)
Google Services
Custom Application Development
Email Marketing
Voice Search
YouTube Channel Optimisation
Social Media Campaigns
Digital Business Audits
There is no magic bullet for winning with Google, it is a combination of a lot of small tasks, implemented correctly that work together to deliver results.
Ivolution Consulting is regularly asked to present at business events to help companies understand the changing nature of Internet Marketing and the impact these changes will have on their organisations.
SlideShare presentation – Local SEO Guide: Winning with Google in 2020.
January 2020 Newsletter – view online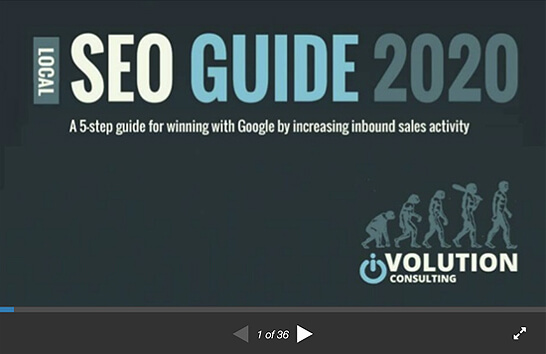 Customer Reviews
We take great pride in our work, therefore it's very rewarding when our clients show their gratitude and appreciation … (more reviews)
5-Step Internet Marketing Guide
Google isn't just king of the jungle, it also owns the jungle; so if you want to win, you must play by Google's rules.
The 5-step approach to Internet Marketing that Ivolution Consulting recommends includes:
Keyword Research
Google / Digital Assets
Website / Optimisation
Review Strategy & Reputation Management
Link Building & Citations
There are only 2 ways to gain prominence with Google:
Pay for Adwords

– which can be instant, but also expensive and provides no residual value. If you stop advertising you will disappear

Optimise your organisation organically

– this approach requires work upfront and results take time. However, if done correctly, it will continue to deliver for many years and require minimal additional cost or effort
Getting found by customers was much easier 10 years ago, all you needed was the biggest colour advert or a business name beginning with AAA.
Business owners would willingly (or otherwise) hand over $50k for a full page advert every year.
The Yellow Pages didn't guarantee advertisers would get a single phone call for their investment. The only thing that was guaranteed is that an advertiser would be listed alongside every one of their competitors.
Fast forward to today, the advertising medium is still controlled by a dominant player, and Internet Marketing is far more complex – but it can also be far more cost effective – and requires no annual renewal fee.
In a recent Internet Marketing case study it was discovered that an organisation's Google My Business account delivered 70% of all phone calls and walk-in customers to the business. The company website accounted for 25% of enquiries while the remaining 5% arrived via offline advertising and social media.